Diana Wiedemann, Principal Architect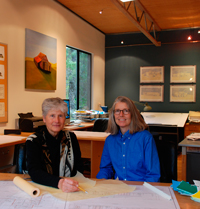 Prior to founding DWD, Diana worked with the architectural firm Pyatok & Associates, an award winning firm, specializing in residential designs, innovative senior housing, and live work developments. She earned her Masters Degree in Architecture at the University of California, Berkeley. Appointed in 1980 to the Mendocino Coasts Citizen Advisory Committee to contribute to the creation and update of the Local Coastal Plan and the Mendocino County General Plan. Selected to the Board of the Community Development Commission of Mendocino County in 1990, where she served both as board member and chairwoman for 10 years, facilitating development of housing throughout Mendocino County.
Her firm upholds a longtime commitment to sustainability and conservation over the past twenty-five years - designing, building, renovating, or upgrading local residences. She has assisted community and business organizations, along with local government agencies, to enhance and protect the local coastal environment, while at the same time, designing and developing creative housing solutions with architectural excellence.
Rebecca Johnson, Artist / Designer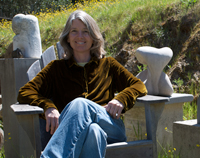 Rebecca brings to DWD her talents and skills as an accomplished artist, designer, colorist and graphic illustrator. She received her BFA from Tyler School of Art, Temple University; and a Masters Degree from The Pennsylvania Academy of Fine Art in Philadelphia. Honors from British American Arts Council, Fellowship in Wales and Two Fellowship Awards from the Pennsylvania Council of the Arts distinguish her career.
Teaching experiences include Dartmouth College, Kenyon College, and Camden College. Public commissions by the Leeway Foundation, Tufts University, the AIA Corporation, Material Culture Phiadelphia, ABC Home Furnishings in Manhattan NY, are just a few of her accomplishments.
Her developed eye as a sculptor and painter allows her to be both bold and subtle in her selection of interior & exterior finishes and details. Working with wood, stone and metals invite an open dialogue to design that balances nature with technical influences.